Alvex is a set of extensions for Alfresco that improves Alfresco capabilities in adaptive case management, document management, project management and business process management areas. Alvex is an open-source software, that you can easily download, install and start using. It provides many features for users out-of-the-box. Developers can use Alvex as a part of their solutions and extend Alvex to meet business needs.
Project Management with Alvex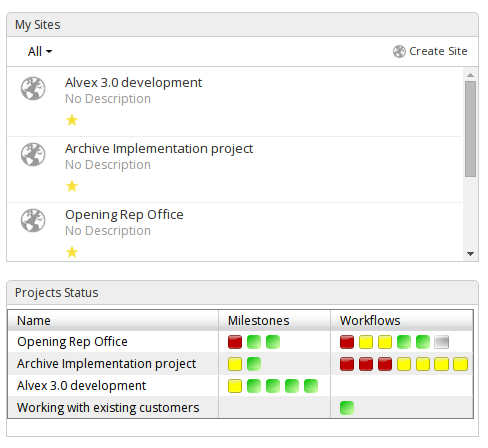 Alvex provides tools to create a workspace for every long-term project that aggregates all information responsible team member needs to manage it:
workflows, attached to the project, to create one huge workflow or many autonomous tasks
check lists of project milestones to control the status of the project
timeline and schedule to see what's happening in the project and what action should be the next
document library to store all files and documents
conversations stream of the project: summary of all meetings, calls and email messages related to the project
list of involved people with their contacts and roles in the project
integration with email server to attach messages to the project automatically is possible
Business Process Management with Alvex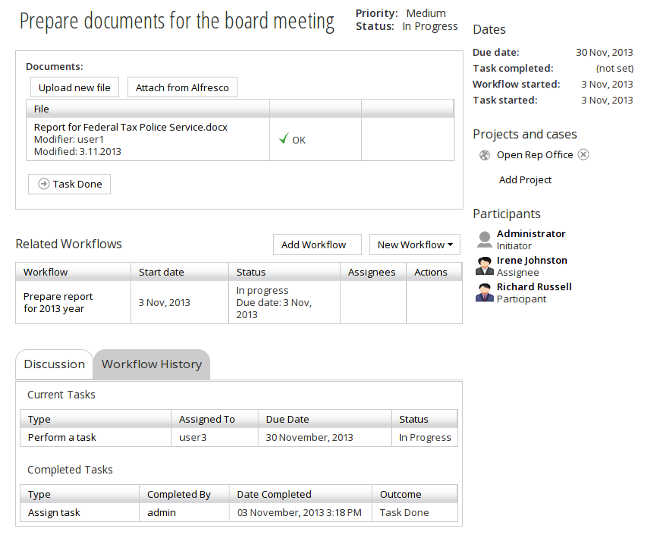 Org chart extension introduces divisions, subordinates, managers etc. Company structure can be used to choose users for task allocation, to associate an employee with a document and automatic task delegation.
Uploader control allows to attach new documents from local storage directly to the workflow and to give permissions to read (or change) the document to the future assignees.
If current task requires additional actions to be done before user can complete it, user can just start a related workflow on the fly.
Alvex allows appoint substitutes for vacation time, leave or business trips.
Each workflow has a discussion thread. Thread is created when process starts and is available during workflow lifecycle.
Top management can get complete status for the whole company — tasks and workflows by assignees, by types, by dates or by priorities.
Document Management with Alvex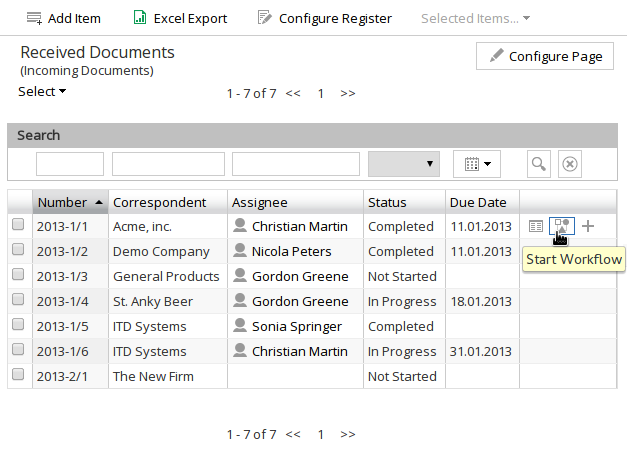 Using Alvex for all document and process management tasks helps to reduce operational costs, avoid the documents confusion, which makes the whole process clear and easily manageable at the same time.
Registers allow to create document records and attach as many files to the record as the document has.
On the page of the record users can see all properties, files and associations of the document, full version history, and a list of workflows the document is or was a part of.
Users can enable auto-numbering and use external and internal master data to fill properties of the documents.
Using Document Registration workflow you can add documents package to the registers, and assign a task to handle the package.
Alvex includes the engine for the standard document generation in the docx format from templates.
Committees Collaboration with Alvex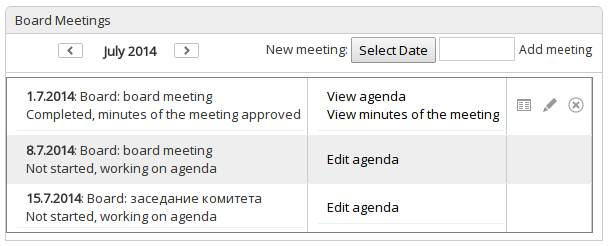 Alvex provides workspaces for committee members:
to schedule meetings
to form agenda
to share documents between members
to review minutes of the meetings
Committee secretary can review requests to consider the issue by committee members, schedule new meetings and generate meeting minutes using corporate templates. Committee members can review meeting documents and inform other members about their decision on an issue.
Alvex for Systems Integrators
Alvex provides both ready for use common extensions and rich APIs for integration into custom solutions. Use Java, JavaScript and REST API to integrate Alvex with third-party applications or to develop custom components on top of Alvex. See our Partner Program to learn why to become a partner and what do you get from using Alvex in your projects.
Use Cases
If you search for an Adaptive Case Management solution, Alvex will help you to control all the project data and processes around the unpredictable project in one place.
If business processes are complex, related workflows allow knowledge workers to assemble them on the fly to address changing requirements. There is no point in endless redrawing of process diagram - it will never work for really complicated cases.
If the company is big and you do not know all your colleagues by names, org chart is the only way to go since it provides role-based task assignment, out-of-office and roles delegation, tools for managers to supervise tasks of their teams.
If your Alfresco project is short on time, workflows and UI components, available out of the box extensions, are the key to success.